Project Manager / Builder: Hooker Cockram Projects Pty Ltd
Consultants: S.E.M.F, Beca Pty Ltd, David Broad and Company providing certification and design computations
The CSR Building Products (CSR Gyprocket) development consists of the construction of a new major manufacturing building for the production of CSR plaster board and the installation of new infrastructure services to support the facility.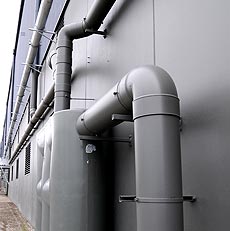 New civil drainage includes 600mm concrete and stormpro pipework, Rainwater harvesting system which, due to limited available areas, collects into transfer tanks and automatically pumps water to large holding tanks and is used on the production line to manufacture plaster board,
The project includes the capture and reuse of condensate water removed from the board during manufacture and cooled and blended with rainwater storage. Geschke plumbing also installed services connections to various areas of the main production lines and associated systems, 1st flush water system, trade wastes and truck wash.
There are considerable production line services providing reuse water for water washdown, cooling, mixing and tradewaste recovery as part of the plasterboard production.
Geschke Plumbing are proud of the plumbing systems being installed which use reclaimed water in a more extensive and production oriented facility.