Overview
Awards
Memberships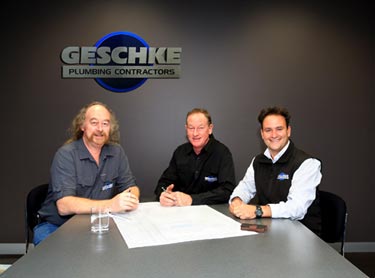 Geschke Pty Ltd started plumbing contracting in 1951.
Under the management of Brian Geschke, the company (originally named Hayes and Geschke) quickly developed the ability and reputation to install plumbing and drainage services in all types of commercial and industrial projects.
Steven and John Geschke became joint owners of the company in 1989. Gareth Dickson joined Stephen and John and they have continued to expand, maintain and enhance the companies' reputation to continually deliver major projects to builders on time and to the highest possible standard. Steven's son Mark and John's son David now have key roles in the company providing another generation to contribute to the success of Geschke Pty Ltd.
The company has the resources and ability to undertake any size and type of project.
Hospitals and Specialised Installations make up a large component of our past, current and future works.
Our installation capacity includes: Sewer drainage, storm water drainage, trade waste treatment systems, siphonic rainwater system design and installation, Hot water and warm water systems, Thermostatic mixing valve installation and testing, Backflow Prevention installation and testing, Fire services including pumps and tanks, Hydrants and hose reels, Gas supply, specialised water treatment systems, air lines, fumigation lines, food process piping and more.
Our ACAD and REVIT department led by Jesse Thorgersen, continues to keep Geschke plumbing at the cutting edge of our industry, providing clients and builders confidence with innovative and solid design parameters
ensuring all contracts are successfully completed with optimum performance.
We have worked with most of the major Builders, Project Administrators and Consultants in Melbourne. We consider excavation capacity one of our strengths.
Geschke Pty Ltd site workforce are covered by our Enterprise Bargaining Agreement and are generally long term employees.
Our own employees operate our excavation equipment.
Geschke Pty Ltd Plumbing Contractors are pleased to have received these awards.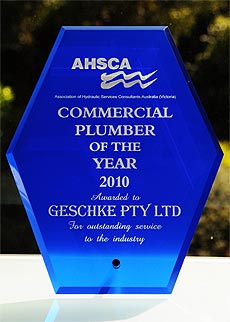 Commercial Plumber of the Year 2010 awarded by the AHSCA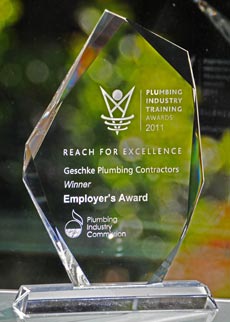 Employers Award 2011 for training from the Plumbing Industry Commission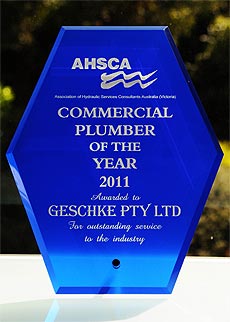 Commercial Plumber of the Year 2011 Awarded by the AHSCA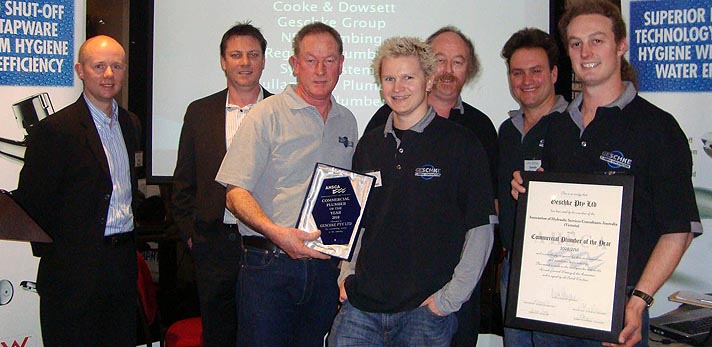 From left to right, Ross Weight, Mark Alexander, Stephen Geschke, Jesse Thorgersen, John Geschke, Gareth Dickson, David Geschke receive their 2010 AHSCA Commercial Plumber of the Year Award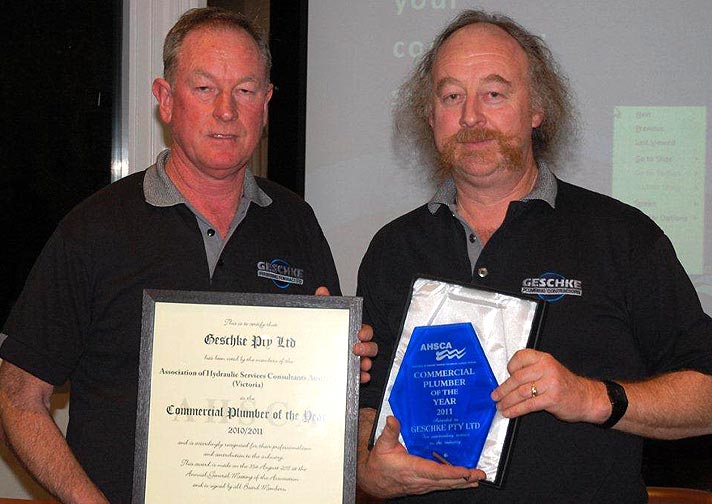 Steve and John Geschke holding their 2011 AHSCA Commercial Plumber of the Year Award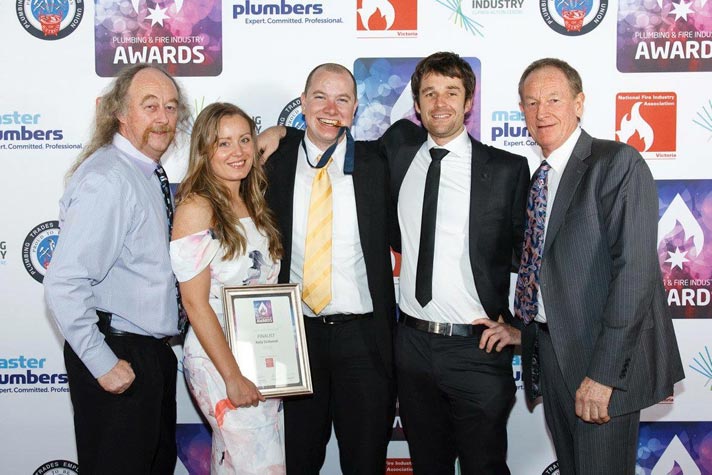 Apprentice of the year 2016 Callam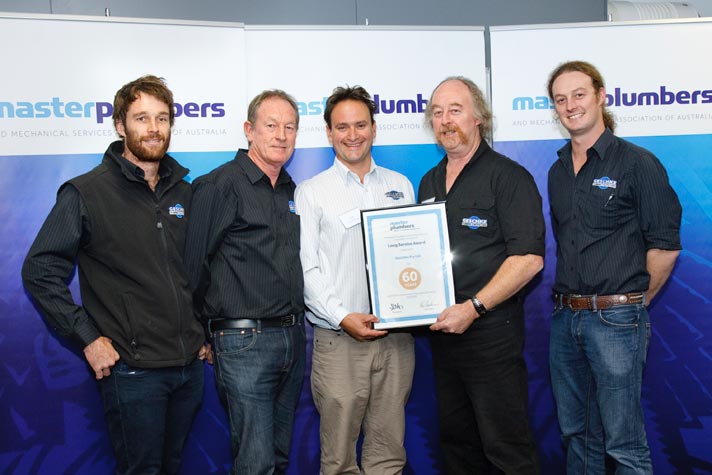 Geschke AGM milestone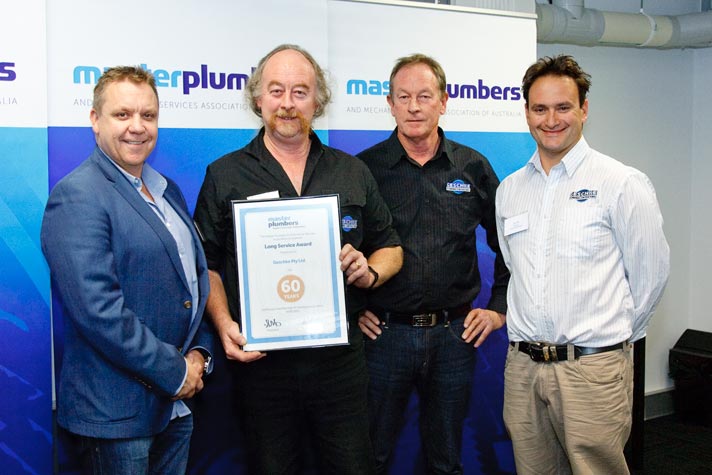 Geschke AGM 2015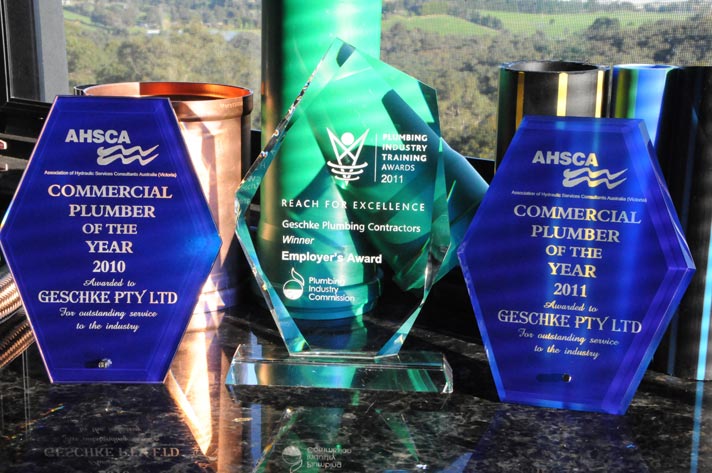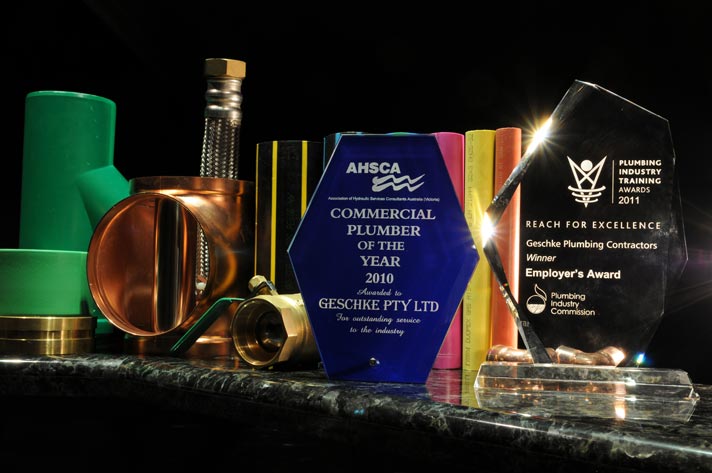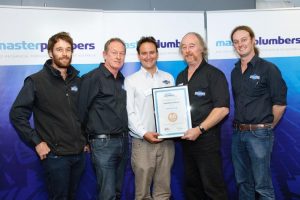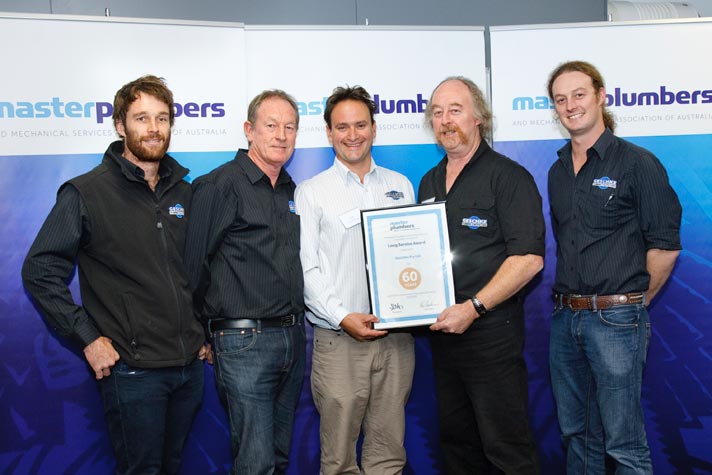 Geschke Pty Ltd joined the Master Plumbers Association in 1955.
More recently Geschke Pty Ltd have become active members helping to resolve industry issues.
Membership No: 462
Association of Hydraulic Services Consultants Australia. In 2008 the AHSCA asked us to join their association as a Commercial Plumbing Affiliate Member. We embrace this membership which provides a forum bringing consultants, regulators, authorities, suppliers and contractors together benefiting the industry with our commercial installation experience.