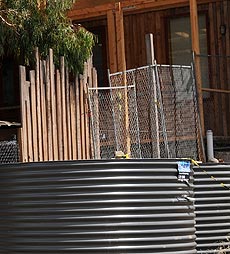 Project Manager / Builder: W.O. Longmuir Pty Ltd
Architect: Greg Burgess Pty Ltd     Consultant: Cundells
Ceres (The Centre for Education and Research in Environmental Strategies) is an internationally recognized model of a sustainable society.
This project provides an education and research faculty to provide an example of how a sustainable future can be achieved. The plumbing systems provide a separation of various waste and rainwater systems to provide re-use water with limited treatment which suits the end use. This allows for more effective and less power consumption in the treatment systems.
Geschke plumbing are installing services and plumbing to the new buildings and installing: fire services, domestic potable water, cistern flush, rainwater, irrigation water, civil storm water, sewer and the pumps and tanks to operate these systems.